Adventure sports are gaining quite a huge popularity all across the globe. River Rafting is one such activity that is full of enthusiasm and thrill. River Rafting is slowly gaining attention among all the things you can do in Asia , since the presence of classic rafting destinations which are blooming to attract adventure freaks. Be it India, Indonesia or any other country, you can visit the specific locations that wouldn't disappoint you when it comes to this super-exciting sport.
River Rafting is a nerve-chilling water sport which is acquiring surging attraction especially in Asia. Be it the blazing river patches in China, or the enormous range close to the Himalayas which are coming under the radar of sports enthusiasts due to the presence of spectacular whitewater patches at almost hundreds of locations. Moreover, Nepal is known as Asia's Switzerland and suits perfect for white water rafting. In Asia, rafting is not restricted but can be accessed in Philippines, Indonesia and other countries where the mountain ties are active. Let us analyze the top 5 river rafting places to visit in Asia which can be reached to experience the high-end adrenaline rush.
1.Ganges River, India
Rafting in Ganges is a superb achievement for adventure enthusiast who wants to experience this striking water sport. Rafting down the numerous tributaries and rapids of River Ganges is preferred by a large share of local as well as international crowd. The long stretches of white water wait for you to get splashed. The temper of the Ganges river rafting will keep you stuck for a longer duration. Where to start the rafting? The perfect place to initiate your rafting adventure is surely from the the holy land of Rishikesh. It is interesting to know that, several patches take a 150 kms long route starting from Rudraprayag via Srinagar to reach Rishikesh. Moreover, the picturesque dense forest accompanied with freezing temperature, creates rough and whipping rapids.
2.The Marshyangdi River, Nepal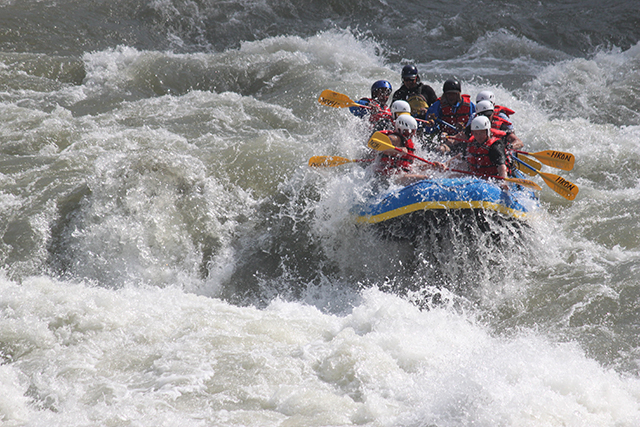 The Himalayan snowmelt adds to the surging pace of this high altitude whitewater river. Marshyangdi River is a suitable choice for those wishing for an intense rafting trip and is suited for those who have previously experienced a good rafting time. One needs to cover a half day trek in order to reach the rafting location. The river rushes through narrow gorges as well as canyons while passing parallel to the Annapurna Mountains. The challenging grade 4 to 5- rapids start on day-one and continuous to offer steep, technical and breathtaking rides through Himalayan scenery. The Marshyangdi River is counted as one of the best places to visit in Nepal for white water rafting.
3.Yangtze River, China
Not all men have dared to conquer this unexplored nature's wonder. It is interesting to know that the 10,000 feet deep Bend of Yangtze is known to be twice as deep as the Grand Canyon. Moreover, the river flow is six times higher. The Upper Yangtze in Tibet also serves as a perfect destination in adventure when it comes to beaches, snow and ancient monasteries. You would be introduced to a dozen Class IV rapids way through this 120 mile patch of the Yangtze River. Count it as one of the most majestic places where you can feel thrilled to the core.
4.Pai River, Thailand 
The Pai River in Thailand is another popular destination where you can access white water rafting. The river passes through steep mountains which are covered with dense unobstructed jungle. The scenery is so amazing that will keep you mesmerized. Indeed it is aptly termed as a nature lover's paradise. Rafting is the perfect activity which is preferred by tourists. Moreover, cliff jumping in the surrounding rocky gorges, along with beautiful waterfalls makes the setup quite breathtaking.
The trek to the rafting spot starts from visiting different Hill Tribes covering wild Gibbons and discovering remote waterfalls. The river patch runs more than 62 miles crossing the green village of Pai with a classic Class IV run. For the enthusiasts, it is advised they need to be confident before hitting the rafting experience at this location, as it can turn dangerous if you lack enough experience.
5.Ranoyapo River, Indonesia 
Whitewater rafting is regarded as one of the striking adventure sports in Indonesia. This activity is accessible close to Minahasa regency, North Sulawesi, where river Ranoyapo rushes. This river is located about 30 km away from the city of Manado. Whitewater-rafting has gained advance popularity in Indonesia and this location is rated as the best.
The Ranoyapo offers 60 Class II-IV rapids and ranges for over 22 miles of distance. It is a two day trip crossing the lush green jungles. You would feel blessed at this location due to its dazzling beauty & adrenaline testing nature.
These are definitely the 5 best places for river rafting in Asia. Based on your budget and location, you can make your pick.  However, whichever location you pick, make sure that you never neglect your safety and security. Wear your harness properly and always listen to your instructor. If you follow the safety instructions well, be assured to have one helluva adventure with this incredible water sport. In case, there are any queries or comments or if you wish to tell us about your favorite location for river rafting, do write to us in the comment below.
Recommend

0

recommendations
Published in Travel Tips & Hacks
...
Tags:
adventure
asia
river rafting
Travel